.·
۩
·.
X
 A  

Y

 A  

H
☽
THE REBEL
☾
┎
┒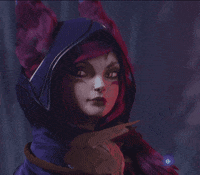 ┖
┚
A    

THOUSAND

   CUTS
is  only   the   beginning
━━━━
━━ ━━
━━ ━━
━━━━
As a child, Xayah loved listening to her father sing the
ancient folk-hymns about vastayan heroes. The haunting
melodies transported her to a long-forgotten time, when
the spirit realm danced freely throughout the physical world.
But, with every new generation, humans encroached further
into the Lhotlan tribelands, disrupting the raw, chaotic
essence of Ionia for their own purposes. Unwilling to stand
by and watch her kind fade, Xayah ignored the decrees of
her people and set out to reason with the humans.
"Rakan tells me to be careful as he wanders away, looking
at the sky. Every time he leaves, my heart sinks. I'm sure
it won't be the last time I see him. Although, one day, it might."
━━━━
━━ ━━
━━ ━━
━━━━
LAVINA™
rakan's bitch
||
no squawking
Recent Comments
Please
login
to post your comment.
View All Comments